BASEhabitat Postgraduate starts in February 2020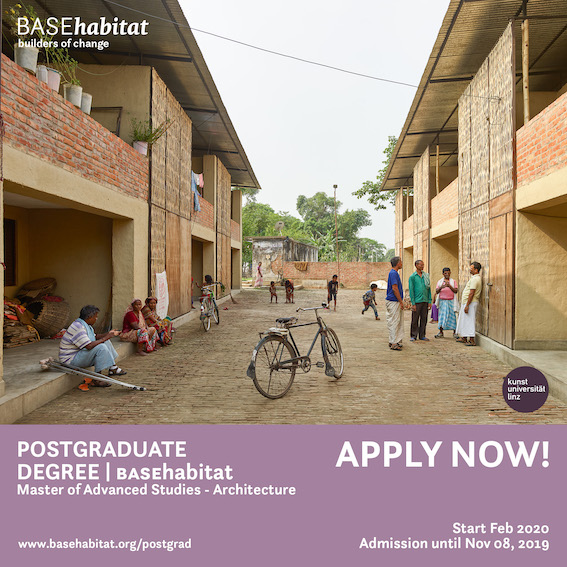 The built environment has an enormous role in the way we live together in this world. Today's construction activities are extremely resource-intensive and harmful to the environment and our climate. BASEhabitat invites built environment professionals to develop radically new ideas for dealing with today's global challenges.
Compile your own portfolio of innovative, sustainable projects under the guidance of renowned guest professors
Learn about the wide range sustainable materials offer for contemporary architecture
Benefit from a practice driven and hands-on approach in a setting of international participants and teachers from various disciplines
Develop sustainable solutions for the build environment at different scales, from buildings to settlements, cities, or regions
Understand different places and contexts and their dynamics. Manage socially responsible planning and building processes
Join the new Postgraduate Degree – Become a builder of change – Apply now!
Application deadline
2nd Call: Sept 30 – Nov 08, 2019
Facts

Start: February 2020
Degree: Master of Advanced Studies
Duration: 3 terms
Workload: 90 ECTS
Tuition Fee: € 9.000
Based in: Linz, Austria
Language: English
Participants: max. 20
Design + Theory in Austria
Design + On-Site Experience on a

BASE

habitat construction site
Master's Thesis under the guidance of a guest professor
Guest professors
Anna Heringer, Helena Sandman, Jan Glasmeier, Nina Pawlicki
Who can join the programme
Built environment professionals (architects, urban planners, landscape architects, engineers, or similar) with dedication and commitment to social and sustainable architecture and spatial development.
Details and contact
» www.basehabitat.org/postgrad (homepage)
» Postgraduate programme folder (issuu)
» Download poster (PDF)
Contact: basehabitat.postgrad@ufg.at