24 February – 25 May 2017 ~ Abetenim, Ghana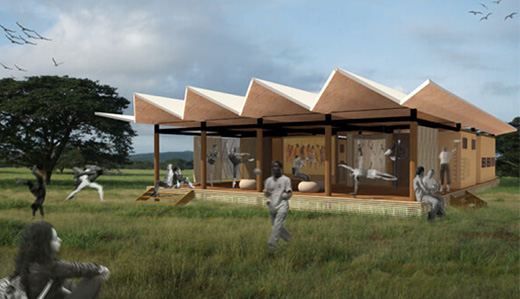 Art House Building Workshop
Start Date: 2017-02-24
End Date: 2017-05-25
The NKA Foundation is issuing an open call to the international architecture and sustainable design and construction community to join the prototyping workshop to build…
The NKA Foundation is issuing an open call to the international architecture and sustainable design and construction community to join the prototyping workshop to build Arthouse, which is one of the Top Design entries in its 3rd Earth Architecture Competition: Designing for the Arts. The competition was open to recent graduates and students of architecture, design and others from around the world. The challenge was to design a mud house type as accommodation for artists to be built by maximum use of earth and other materials in the Ashanti Region of Ghana. The competition was conceived as an Open Source project to:
Generate mud house design alternatives to be available free to everyone to appreciate, use, or improve them to generate more practical and contemporary design solutions for the arts in the region; and
to make possible the construction of the best design entries through building workshops to realise some built examples to the local people that mud architecture can be durable and beautiful.
The Arthouse Building Workshop is designed, therefore, to bring together participants from around the world in fields such as architecture, landscape architecture, construction, interior design and art to play a role in line with their expertise. The Arthouse Building Workshop is a collaboration between Nka Foundation, a nonprofit organisation in the United States and the team that designed Arthouse, BO! Arquitectura, an architectural practice based in Montevideo, Uruguay.
The Arthouse
Specifically, the Arthouse is a 220m² (2400sq feet) cottage for use as an artist-in-residence program, designed to accommodate from 8 to 10 artists at a time. The earth architecture project presents technical novelties, the use of mixed construction techniques as wattle and daub wall construction combined with a structural ceramic roof developed by Uruguayan engineer Eladio Dieste. The workshop also proposes the use of alternative sewage system, ensuring aproper wastewater disposal. This way, we can create high quality architectural and an environmental friendly project, capable of being replicated in the west-African region.
It's not all works! Over the weekend, participant can explore the nearby cultural sites such as Bomwire Kente Village, Bobiri Forest Reserve, or the cultural centres in the historic city of Kumasi. And there will be short breaks from the construction project to participate in field trips.
Dates
24 February – 25 May 2017
Where
Abetenim Arts Village near Kumasi, in the rural territories of the ancient Ashanti region of Ghana
Deadline
Volunteers will be accepted until spots are filled. Spots limited to 30 international participants
Who can participate
Volunteers worldwide
Cost Food and accommodation $90/week Project contribution $450
USD

(flight costs are not included)
Project organisers
NKA Foundation and BO! Arquitectura
Contact and applications
In collaboration with the NKA Foundation