14 – 17 November 2019 ~ Sardinia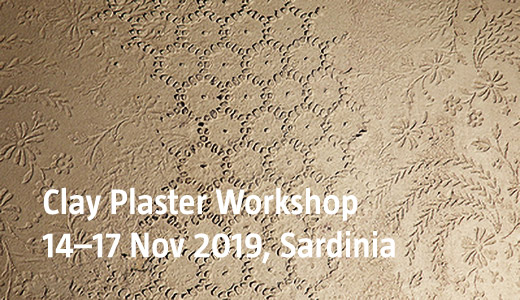 Clay Plaster Interior Design Workshop
Start Date: 2019-11-14
End Date: 2019-11-17
When we are creative, we create something. You can clot clay on the wall. But when is something sacred to you? When all the love…
When we are creative, we create something. You can clot clay on the wall. But when is something sacred to you? When all the love has flowed into your own doing and you discover the beauty of this devotion. We have the honor to welcome two great clay artists for this workshop, Isabella Breda and Kenji Matsuki, who in every moment work in this devotion. Two masters of clay art who, in addition to technology, above all convey their love for the earth in every moment.
For whom is the workshop
Men, women, lay people, experts, architects, engineers, craftsmen, house builders, artists, nature lovers and generally for all people who are interested in circulatory systems and are interested in (construction) ecology. Max. 20 participants
What are we working on?
The artistic interior plastering of the first small residential wood / mud house on Su Orteduso of about 30 square meters.
A little theory and a lot of practice
Earth analysis – properties and components of the earth
Preparation of the substrates – how to prepare the base for the application of the plaster
From the material to the material – Formulation of various mixtures of base and finishing plaster based on excavated earth, fibers, water.
Application techniques – application of the base plaster layer; how to mount the plaster support mesh; application finishing plasters
Finishing techniques – sponged, smooth, polished surface treatments
Exploration and deepening of the creative potential of clayplaster: comparison of some possible solutions and surface design based on specific examples for to obtain different effects (texture, color, etc)
The focal points are determined by the participants. The seminar is dedicated exclusively to the clay plaster.
Details and Contact
» Download flyer (PDF)
» www.orteduso.com (homepage)