18 July – 9 October 2016 ~ Tanzania, Africa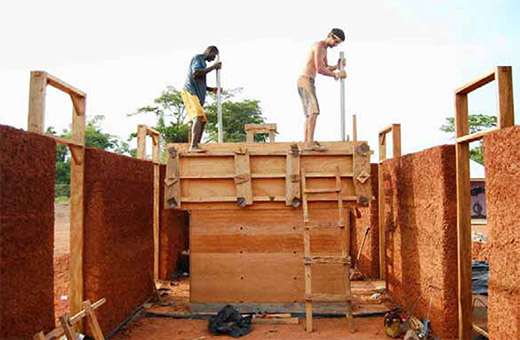 Earth Building Workshop: Living on Levels
Start Date: 2016-07-18
End Date: 2016-10-09
The Kasirwa Earth House Building Workshop Join us in the design, development and construction of a prototype earth home in Kasirwa, Tanzania. The experience is…
The Kasirwa Earth House Building Workshop
Join us in the design, development and construction of a prototype earth home in Kasirwa, Tanzania. The experience is an opportunity to immerse in the local culture, explore sustainable design initiatives and learn through hands on analysis, field trips and construction of the project with the local community. As well as getting imparted comparative knowledge in state of the art earth building and low cost sustainable building equipment.
The home will be joining the mud house collective to initiate Nka Foundation's new Artist Village project site in Tanzania. It will serve as a home for local and international artists to use while performing their artist residency with Nka Foundation. Nka has had success in Ghana serving human capital development through use of the arts. The foundation now has the opportunity to continue their mission in Tanzania.
The home will also be used by volunteers who come to the local school to volunteer their time and skills. These volunteers come to Namfua Secondary School to build a classroom, playground for the school or teach summer kids camp or an after school project when school is in session.
We will begin the workshop through site-specific tours of the local architecture and talking to the residents to gain awareness and knowledge of the local building traditions. The design process will then begin to evaluate and refine the design of the Kasirwa Earth House by Marco Grimm & Gwok-Wei Cheung.
Participants
Volunteers, professionals, researchers, practitioners, interns and project thesis students.
Languages
English, German and Italian.
Organisers
NKA Foundation, Ghana: Nka Foundation initiates and promotes artistic, humanitarian and educational projects or activities that build cultural bridges between Africa and the rest of the world.
Nka Foundation has a focus on human capital development through use of the arts, broadly defined to include visual arts, literary arts, performing arts, design, new media/film production, arts history, arts criticism, arts education, arts administration and curatorship, and emerging others. The Tanzania Earth Building Workshop is the first project in their new Tanzania location. » Facebook
Anhalt University of Applied Sciences, Dessau, Germany: Located in the centre of Germany, the architecture department directly adjoins the famous Bauhaus buildings in Dessau. The architecture department has a thriving unit focussing on sustainable building techniques, and has organised several construction projects in different locations around the world. » Homepage of the architecture department (in German).
Further information
Full details of the project, participation requirements, visa, health and insurance requirements and much more is available in the » Brochure
Workshop leaders: