18 – 19 November 2021 ~ Online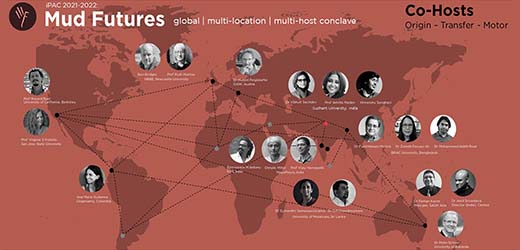 iPAC 2021-2022: Mud Futures – Scaling Up
Start Date: 2021-11-18
End Date: 2021-11-19
Announcing the fifth month of iPAC 2021-2022: Mud Futures, a global year-long multi-host multi-location conclave on the futures of mud in architecture conceptualised and conducted by the School of Art and Architecture, Sushant University. Conclave Chair: Prof. Dr.Vibhuti…
Announcing the fifth month of iPAC 2021-2022: Mud Futures, a global year-long multi-host multi-location conclave on the futures of mud in architecture conceptualised and conducted by the School of Art and Architecture, Sushant University.
Conclave Chair: Prof. Dr.Vibhuti Sachdev
Conclave Directors: Prof Amrita Madan | Himanshu Sanghani
Theme Conveners: Srijani Harza – Origin | Sobia Ahsan – Transfer | Aruna Bhardwaj – Motor
Coming Up
Theme: Transfer
Sub-theme: Scaling-Up
Co-host: Dr Hubert Feiglstorfer, Institute for Social Anthropology (ISA) at the Austrian Academy of Sciences (ÖAW)
www.oeaw.ac.at/isa/detail/news/conference-mud-futures-scaling-up
Date: 18 - 19 November 2021
Time: 1.00 pm -5.30 pm (IST)/ 8.30 am – 1.00 pm Vienna Time
The thematic track 'TRANSFER' has three sub-themes: Evolving Typology, Scaling-Up and Skilling-Up.
The upcoming sub-theme Scaling-Up, explores the implications of projecting mud as a mainstream material of the people. It examines the challenges, when the uses are transferred from private to the public realm. This transfer brings about formational and technological changes of its scale, sophistication, aesthetics and commodification.
Scaling-Up of mud with new techniques and methods, raises questions of authenticity of its application to contemporary urban users.
Registration
The event takes place via zoom. To register visit: ipac.page/mudfutures/ and use the code mfaas for free registration.
Global co-hosts
BRAC University, Bangladesh | mayaPRAXIS, Bangalore, India | RVS Chennai Padmavathy School of Architecture| Organizmo, Colombia |Austrian Academy of Sciences, Austria |  The University of Adelaide, Australia | Society of Architectural & Urban Historians of Asia (SAUH-ASIA) | San Jose State University, USA | University of California at Berkley, USA | HBBE, Newcastle University, UK
Publication Partner - Faculty of Architecture Research Unit (FARU), University of Moratuwa, Sri Lanka.
Knowledge Partner - HBBE Newcastle University, UK and mayaPRAXIS, Bangalore, India
Conclave Catalyst - ACEDGE