22 – 25 October 2018 ~ La Antigua, Guatemala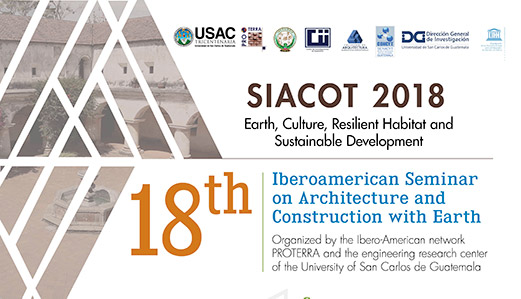 SIACOT 18 Ibero-American Seminar on Architecture and Construction with Earth
Start Date: 2018-10-22
End Date: 2018-10-25
Earth Culture, Resilient Habitat and Sustainable Development The organizers, the PROTERRA Iberoamerican Network and the Engineering Research Center, with the support of the Faculties of…
Earth Culture, Resilient Habitat and Sustainable Development
The organizers, the PROTERRA Iberoamerican Network and the Engineering Research Center, with the support of the Faculties of Architecture and Engineering of the University of San Carlos of Guatemala, invite those interested to participate in the 18th Ibero-American Seminar in Architecture and Construction with Earth, which will take place between October 22 and 25, 2018, in La Antigua Guatemala, Guatemala, which has been a World Heritage Site since 1979.
Program
Workshops: October 22nd and 23th, 2018
Conferences: October 24th and 25th, 2018
Technical visits: October 26th, 2018
Papers and presentations
SIACOT 18 at La Antigua Guatemala invites three different forms of presentations from authors:
Scientific articles
Posters
Design and work case studies
Submissions have now closed for scientific articles.
Posters and design and work case studies
18 June 2018 – Deadline for submitting poster and design and work case studies
10 September 2018 – Notification of acceptance of posters and design and work case studies
Languages
Spanish and Portuguese
Cost and participation
Registrations before August 31
Students – 25 US$ (accreditation required)
Regular – 50 US$
Registrations from 1 September
Students – 50 US$ (accreditation required)
Regular – 100 US$
To benefit from the preferential cost of participation, you must pre-register by August 31.
NOTE: To complete the registration you must submit the corresponding payment to the SIACOT 2018 organizers.
Contact
Email: proterraguatemala@gmail.com
Web: siacot.ingenieria.usac.edu.gt
Facebook: www.facebook.com/Siacot-2018-La-Antigua-Guatemala-390989017968663/
» Flyer