22 – 26 May 2017 ~ Villefontaine, France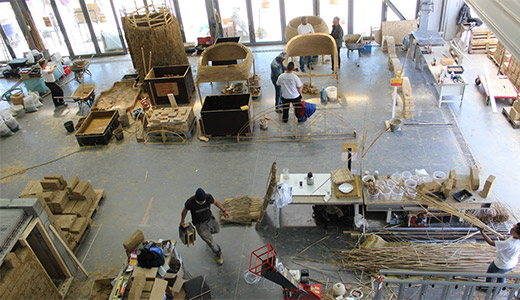 Workshop – Festival Grains d'Isère
Start Date: 2017-05-22
End Date: 2017-05-26
The international earth building workshop takes place in the week prior to the Festival Grains d'Isère 2017 in Villefontaine, France. The festival week is an…
The international earth building workshop takes place in the week prior to the Festival Grains d'Isère 2017 in Villefontaine, France. The festival week is an international event focussing on sustainable building in the context of man and the environment.
The workshop on experimental design and building includes both lectures as well as practice-oriented hands-on earth building in the project week at the Grands Ateliérs.
Who is it for?
The project week is open to:
Bachelor and Master's students from building and design programmes at European universities and higher education institutions
Craftsmen and women
Trainees
Interested persions
Location
Grands Ateliérs Villefontaine
Region Rhône-Alp, Nähe Lyon
Dates and Transport
Start: Monday, 22 May 2017, 10:00
End: Friday, 26 May 2017, 17:00
Arrival: Sunday 21 May 2017
Please arrange your own transport to and from the Grands Ateliérs Villefontaine.
Costs
Accommodation in the youth hostel (4-bed rooms): 23 € per night
Atelier use: 100 € for 5 days
Lunch in the atelier: 9 € / day
Downloads
Contact details
Prof. Iris Fäth – info@cobuild.eu
Stephan Jörchel – dvl@dachverband-lehm.de